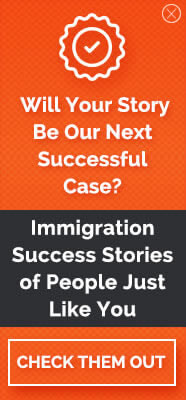 Green Card

Through Marriage:
Obtain Legal Status Through Your Spouse
The United States allows their citizens and permanent residents to bring foreign direct relatives to the country or provide legal status to those already in the US. The immigration benefit encourages family reunification through legal mechanisms.
Before a Green Card through marriage is approved, immigration authorities examine these applications closely to make sure they are legitimate marriages. In addition to all requirements and paperwork, applicants attend an interview with an immigration agent. This step is extremely important to avoid a fraud.
You are also eligible to apply for a green card through marriage if you are engaged to a US citizen and will get married within the first 90 days after entering the country. We strongly suggest you talk to an experienced lawyer before submitting an application, so you make sure to comply with all requirements and avoid any delays.
Honest and reliable immigration advice, resulting from a personalized attention
Our team has vast experience handling family reunification cases, including spouse green cards
We provide multilingual support and completely confidential consultations
3 Things You Need to Know
About Marriage Green Cards

Due to an increasing amount of asylum petitions,
there is a new prioritization system in place and response times could be longer

If your asylum application is denied,
you can appeal the decision and remain in the country during the entire process

If you are in the US with asylum status,
traveling to your home country may jeopardize such status if it is determined that you were not at risk of suffering persecution
Key Facts
About Temporary Protected Status

Although the Green Card through marriage process is faster than other applications, approval is not immediate or guaranteed. Keep in mind that you will have to attend an interview to proof the legitimacy of your marriage.
To prove yours is a legitimate marriage, you may sent affidavits from friends, family members and religious leaders to immigration authorities.
If immigration determines you are trying to commit fraud with a fake marriage, you may be banned from making future permanent residence applications
Testimonials
My name is Elena, I hired Law Offices of Alice…

I contacted Alice Antonovsky because…

I came to the US as an international student…