In accordance with the EB-5 investment program, not only does a prospective investor has to show that he/she has the required funds to invest, but also that such funds came from lawful sources. In this post, we will take a deeper look into what exactly counts as EB-5 path and source of funds and how a potential investor can comply with these requirements.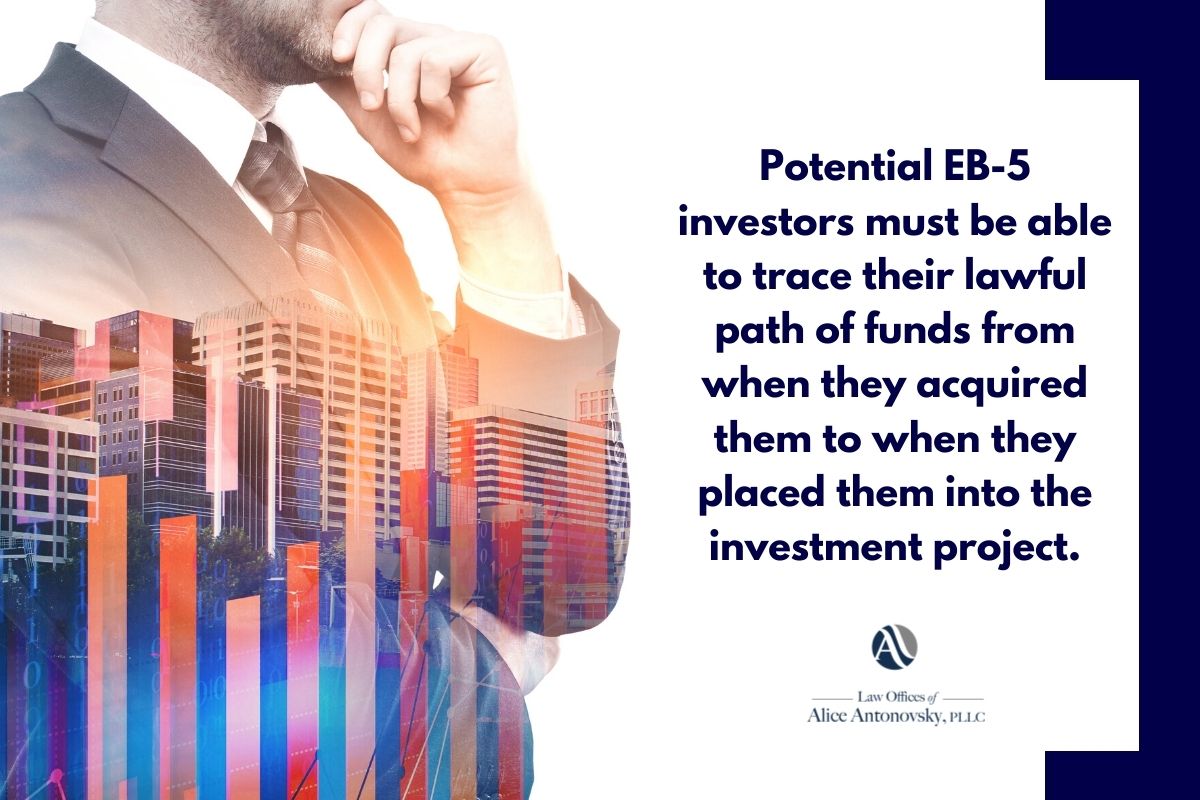 EB-5 Path and Source of Funds Requirements
As we know, potential EB-5 applicants must be willing to invest in a new commercial enterprise either $900,000, if the enterprise is located in a targeted employment area (TEA) or $1,800,000, if the enterprise is not located in a targeted employment area.
There are 2 very important requirements that need to be present for the EB-5 visa to be approved:
The potential investor must show Source of Funds being invested; and

The potential investor must show the Path of Funds being invested. 
Potential investors must be able to trace their lawful path of funds from when they acquired them to when they placed them into the investment project. USCIS requires that prospective investors show by a "preponderance of evidence" that the funds being invested came from lawful means.  The "preponderance of evidence" standard means that a prospective investor must show that it is more likely than not that the funds being invested came from lawful sources. 
In order to comply with the standard mentioned above and show that the funds came from lawful sources, a potential investor may present numerous documentary evidence.  Documentary evidence may be different and there is no single list or formula that would be equally applicable to all investors. Proof may be documentation confirming the sale of real estate, income from a business, investment or employment, a loan, gift, or inheritance.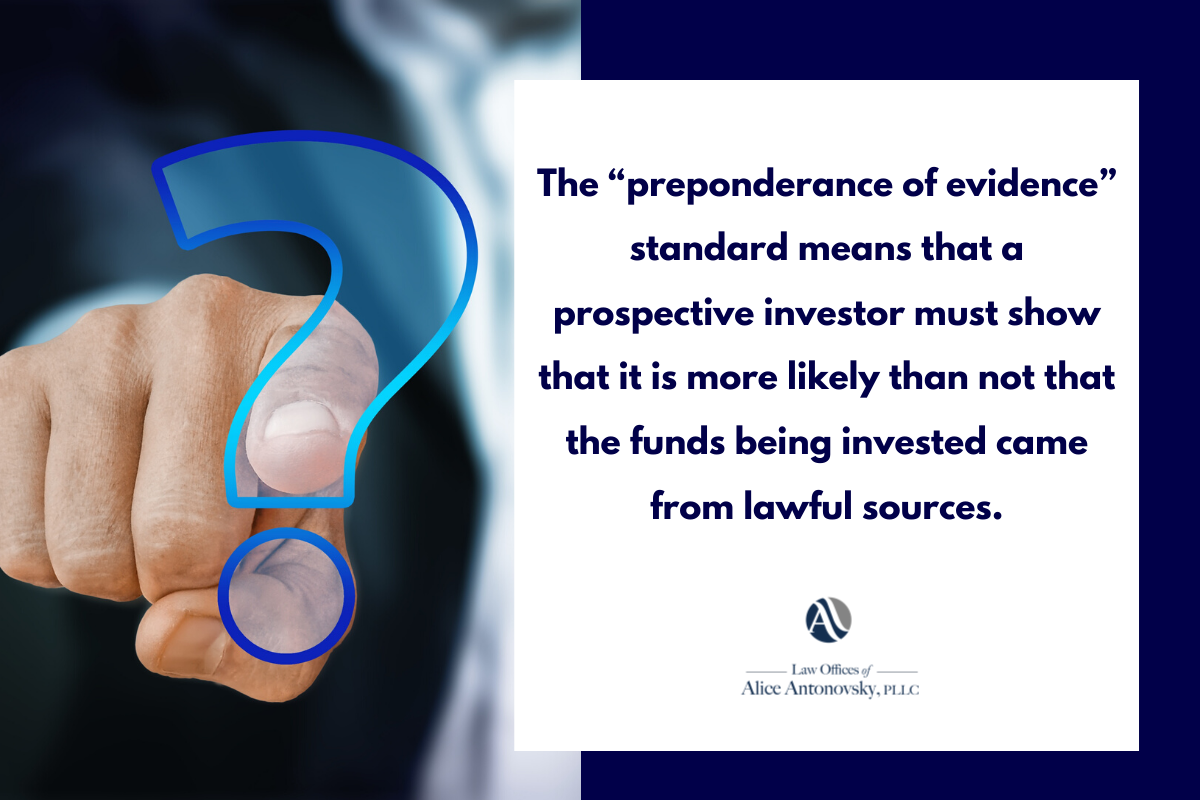 EB-5 Source of Funds Evidence
Some examples of what kinds of documentary evidence may be presented is as follows:
For real estate:  Investors may present any purchase or sales contracts, mortgage documents, deeds, appraisals, rental income, gifting documents, and bank account statements.
For funds related to business ownership and income derived from it: Investors may show business registration documentation, ownership records, appraisals, accounting, bank records, tax records, buy/sell agreements, and contracts with third-parties.
For funds obtained through various investments: Here investors may show brokerage statements, retirement account statements, stock certificates, cryptocurrency investments, and tax returns.
Earnings from employment: If using funds earned through employment, investors would show earning statements, W-2, 1099, employment contracts, tax documents,  bank account statements, and records of deposits. 
For funds obtained as gifts: Investor may present a gift letter along with documentation of the sources of funds from the party who gifted said money. Basically the person giving the gift to the investor would then need to show his source of funds and that the amount gifted was obtained through lawful means. 
Inheritance: If funds used were inherited, investors would show copy of a will or any relevant estate documentation. 
Funds from loans: Here investors would need to show the source of funds documentation if the loan source was not from a bank as well as documentation evidencing loan transaction together with proof of any collateral which may have been necessary to secure said loan. 
This list is not an exhaustive source for documenting funds. It's important to point out that funds do not need to come from a single category that is mentioned above and came come, and often do come, from several different sources. Every case and every situation is different, which is why working with an experienced EB-5 immigration attorney is essential. This attorney can assist you with collecting the required documentation as well as advise you on which sources of funds are best used for the EB-5 investment, as some sources are better than others for EB-5 purposes. 
Also, it is important to keep in mind that in addition to minimum investment amount, a prospective EB-5 investor must also show that they have the funds to pay the additional administrative fees if investing through a regional center. These fees can range from $50,000 – $75,000 depending on the project.
About EB-5 Path of Funds
Lastly, but just as important, in addition to showing Source of Funds as detailed above, a potential investor must show Path of Funds. That means there must be a clear chain of movement of funds from investor's account into investment enterprise. This is especially important if investor's funds do not come directly from investor's account, as is often the case with countries that have limits on international money transfers, as well as in other situations. A potential investor must show that the funds that were transferred into the investment enterprise, if not directly from investor's account, came to the account of the transferee from the investor. 
For more information concerning the investment visa EB-5 or to begin the process, please contact our office at +1 (718) 924-2896.