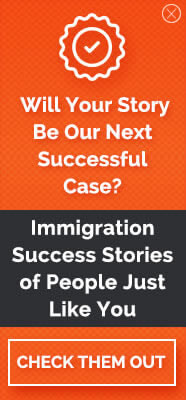 as a US Lawful Permanent Resident
The terms "permanent resident" and "U.S. Citizen" are often confused with one another. A lawful permanent resident (LPR) may live and work permanently anywhere in the United States, own property, and attend public schools and colleges. However, they may or may not become a US Citizen at a certain point.
Even though lawful permanent residents harness great benefits, only U.S. citizens have the right to vote and can remain outside the country for long periods or time. LPRs must typically live 5 years in the country before applying for U.S. citizenship, 3 if you are married to a U.S. citizen.
If you are an eligible LPR, you can become a US citizen through naturalization. You will need to fill out Form N-400 completely and accurately and submit it to USCIS along with the required documentation. If you decide to apply for naturalization, we recommend you talk to a lawyer before processing your application. Our dedicated team can help you understand the process and avoid unnecessary mistakes.
In-depth understanding of the U.S. immigration laws
Honest and accurate legal advice tailored to your particular case
Experienced Legal representation throughout the Tri-State Area
3 Things You Need to Know
About U.S. Lawful Permanent Residents:

Green card holders can
live and work permanently in the United States and are protected by all their laws.

If lawful permanent residents
spend more than 6 months outside the United States, they can lose their Green Card.

Permanent residents can petition for an immediate family member.
However, since there's a limited number of visas in this category, it is likely to spend five or more years on a waiting list before being admitted into the US.
Key Facts
About U.S. Lawful Permanent Residents

Green card holders whose card is expiring should apply for a new card by completing immigration Form I-90, paying a fee and gathering the supporting documentation
Lawful permanent residents do not have the right to vote, do not have a US passport, and can be deported if convicted of an aggravated assault.
LPRs must pass an English and civics test to become a U.S. citizen.


Testimonials
In 2008, I arrived in New York and was later granted a Green Card. However, I got a DUI when I was going through the naturalization process. I was afraid of the complexities of the naturalization process in my particular case. So, a friend of mine recommended me Alice Antonovsky. She is a very competent and professional lawyer. Ms. Antonovsky explained me what my potential outcomes were and everything came out OK!

I've been living in the US for over 12 years. I want to become a US citizen this year, so I contacted Alice Antonovsky to help me fill out all the paperwork and explain me the process. She is a very committed lawyer and takes time to work on my case. Additionally, Ms. Antonovsky makes sure I understand what's going on with my case. She has no hidden fees! Thanks again Ms. Antonovsky for your professional and kind work!

My husband and I have been living in the States for over 8 years, both of us entered the United States with a different visa and overstayed. I searched for a lawyer in NYC and was so glad to find someone like Ms. Antonovsky. She told me what my options were and I made a decision based on the information she gave me. The process has been going smoother than I thought. Very recommended!